Services We Provide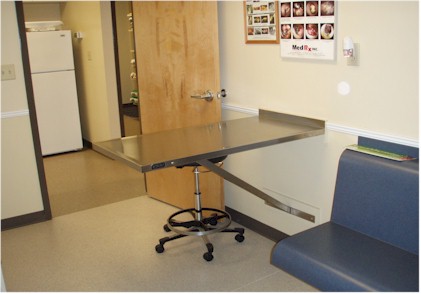 Surgical Services: Our state-of-the-art surgical suite provides for the performance of a wide variety of routine surgical procedures. We can also provide you with a referral to a nearby surgical specialist for complicated surgical procedures. For all of our surgical patients, we offer many pre-anesthetic tests prior to surgery. You can contact us for a copy of the Pre-Anesthetic Blood Testing Consent Form and bring it with you prior to surgery.
Anesthesia: We utilize the safest available anesthetics and tailor each anesthetic protocol to the individual patient in an effort to provide that extra margin of safety. This becomes especially important for our older and high risk patients. Using the most modern equipment, the patient's vital signs are monitored during all anesthetic procedures. We also recommend performing a blood profile prior to all anesthetic procedures to allow us to take extra precautions during and after the procedure. You may contact us for the form.
Pharmacy: We maintain a complete inventory of pharmaceuticals, vitamins, shampoos, and flea and tick preventatives to meet the needs of your pet.
Dentistry: Our dental services include ultrasonic teeth cleaning, polishing, sealing, tooth extractions and oral surgery. We also offer many ancillary products for dental care, including, toothpaste, tartar diet food, Oravet and mouthwash.

Laboratory: We have a state of the art in-house laboratory facility. It can provide for serum chemistry, hematology, serology, urinalysis and parasite testing. In certain cases, we also use commercial veterinary laboratories for specialized diagnostics and consultations.
Electrocardiography Services: We can provide ECG services on-site as well as consultations with cardiology specialists.

Diagnostic and Therapeutic Services: Our facility is equipped to provide diagnostic and therapeutic services to care for your pets' complete health care needs.
Radiology Services: Our on-site, modern X-ray equipment provides high quality radiographs to aid in the diagnosis of many disorders. We also have access to a radiology specialist, for consultations on radiographs if necessary, and to provide ultrasound/endoscopy technology.
Boarding: We offer full boarding facilities, including post-surgical and long-term boarding as needed. Our boarding area is climate controlled. We also have a fenced yard and we provide multiple "potty" breaks. Tours of the facility are available. Some of our main requirements for boarding are:
- All animals must be current on all vaccinations
- All animals must be free of external parasites (ticks, fleas, etc.), or they will be treated while boarding

For all of our new customers who wish to board their pets, please click here to print a Boarding Release Form to fill out and bring with you during your first visit.

Grooming: We provide a full selection of grooming services for your cat or dog. Our pet stylist can groom your pet according to breed or personal preference. This can include a bath, haircut, nail trim and/or filing, anal gland expression, ear cleaning and plucking if necessary. We also provide a shedless treatment that cuts shedding down 80% to 90% on most dogs. (A special shampoo is used to loosen the hair follicle of the dead hair so that it can be removed. Next, conditioner is applied to strengthen the healthy hair. This treatment lasts for about one month.)
Dietary Counseling: We will provide guidance regarding your pet's nutritional needs for each life stage, including dietary requirements for growth, weight maintenance or reduction, and performance. We can also provide you with prescription diets designed to aid in the treatment of specific disorders. Please check with one of our receptionists to see if your prescription diet is readily available. In some cases it may take up to a week to make a special order for your pet's needs.

Emergency Care: For after-hours emergencies, please call 615-217-9292, and leave a voice mail, and someone will call you back.